Introduction of PPSC Lectures Jobs announced by Punjab Higher Education Department
There are latest information about new vacancies, that announced in All Punjab Government Colleges. The vacancies are 2451. If we looking these seats gender wise, then 1435 seats reserved for females staff and 1016 vacancies reserved for males staff. The position are for the Lectures of all subjects. Recruitment will be purely on merit base policy. Details available in PPSC Lectures jobs advertisement 2020.
These jobs are showing still in upcoming jobs of PPSC official website. Mostly graduates prefers to join these Lectures jobs. Mostly vacancies are vacant in all Punjab Government colleges. By that huge recruitment that vacancies will be filled by suitable applicants. All those candidates having the master degrees are welcome to apply in PPSC Lectures Jobs 2020.
Eligibility Criteria For PPSC Lecturers Jobs
To know bout the criteria to join these valuable jobs in Punjab Government colleges as lectures have the importance for interested applicants. So, we have discussed all details about the PPSC lectures seats, which are following.
Educational Requirements
Candidates must have the 16 years, BS (Hons) or Master Degree with minimum 2nd division. However fro English Lecture seats 3rd division allowed with diploma in English from Allama Iqbal Open University.
Age Limit
Age limit for Males minimum is 21 and maximum 28 years (Plus 5 years relaxation in some cases). For Females candidates the minimum mus 21 years and maximum 28 years (Plus 8 years will be relaxation in some cases).
Domicile (Nationality)
Candidates must have the Punjab Domicile holders. Candidates must have also computerized National Identity Card (CNIC). There are 36 district in Punjab Province. All applicants from that district are eligible.
Final PPSC Lecturers Advertisement

(Announced on 23rd August 2020)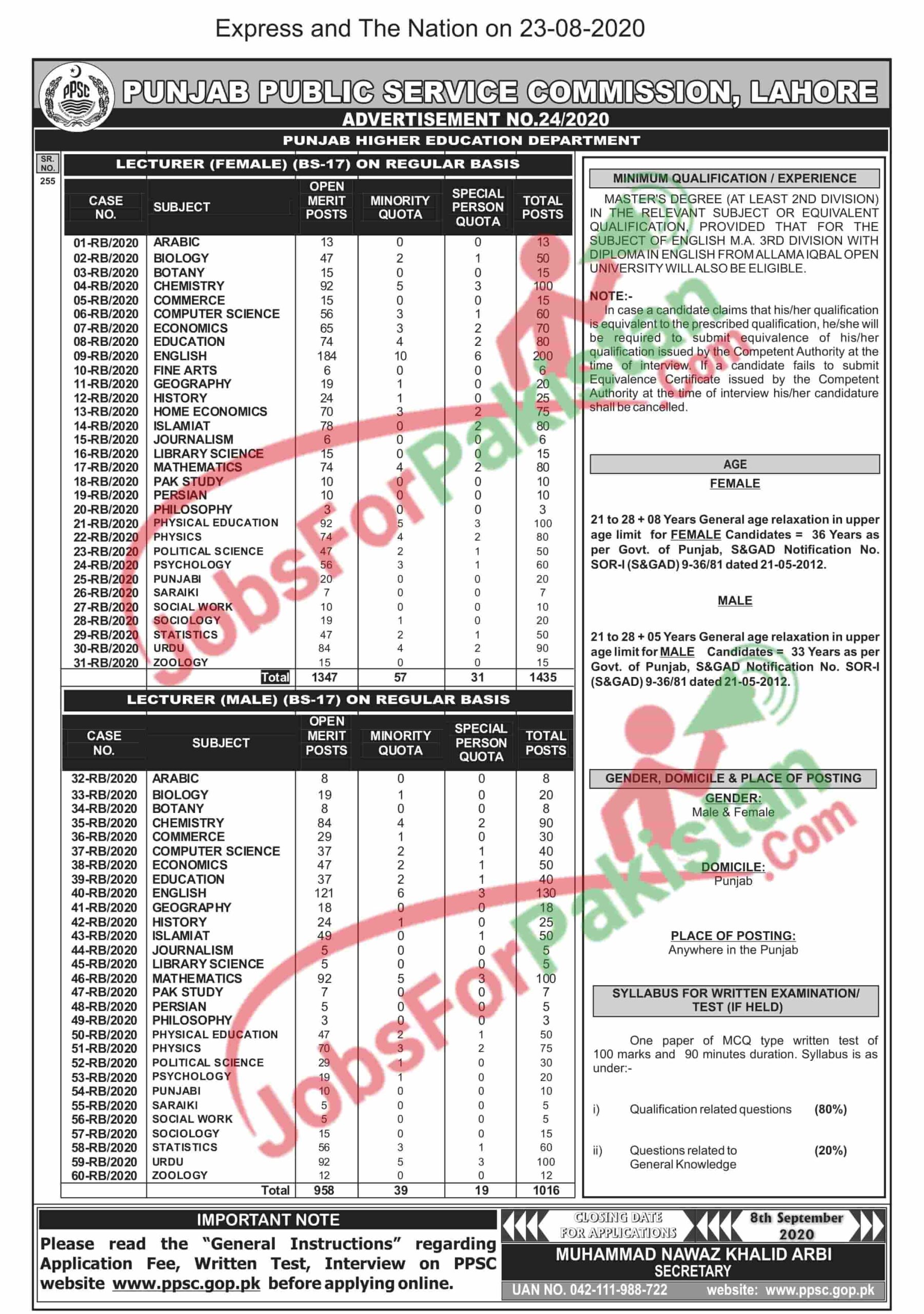 Last Date : The closing date for submit online PPSC Lecturer Application from is 08th September 2020.
Latest PPSC Males Lectures Jobs Advertisement | New PPSC Vacancies
The vacancies allocation details for each subject is arranged by PPSC. The subject-wise details for males required staff are following in this advertisement.
Latest PPSC Females Lectures Jobs Advertisement | By Punjab Government Colleges
There are total 1435 seats reserved for hire female staff in Government colleges. The subject-wise detail of female vacancies are following in this advertisement.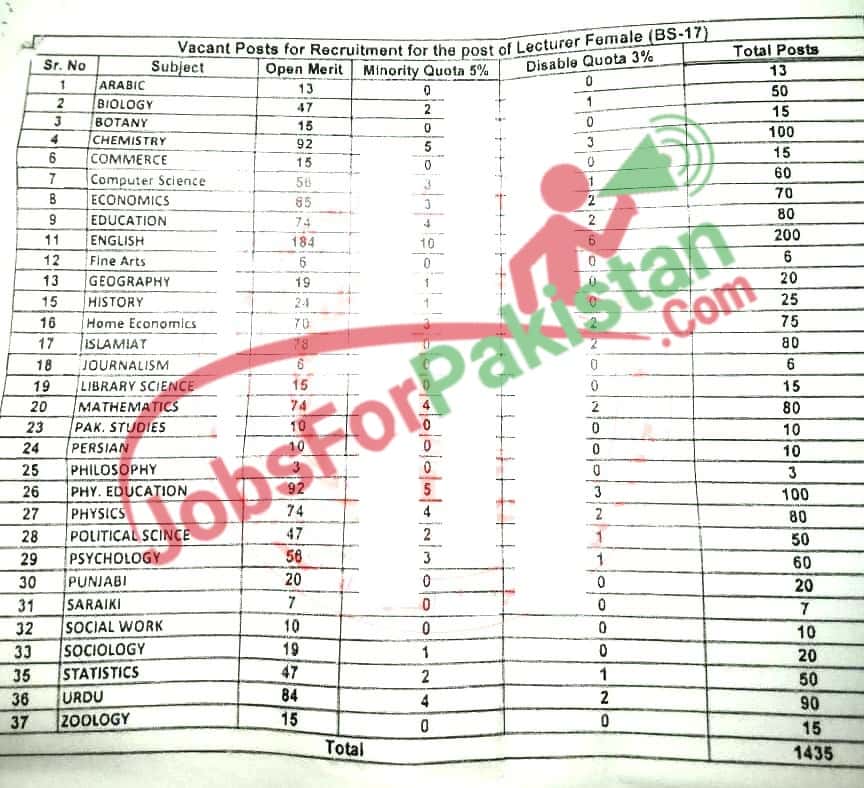 How to apply for PPSC Government Colleges Lecturers Jobs
Interested candidates still wait for announcement of final advertisement.
The advertisement will published on PPSC official website in couple of days.
So, be ready for online apply.
Last date for these jobs still not announced (Coming soon).
PPSC Lecturer Entry Test Syllabus
There will be the total 100 MCQs (Multiple Choice Questions) on PPSC written paper. The mostly 60-80% questions will be related to your applied subjects. Other resting MCQs will from current affairs, General Knowledge, Islamic & Pakistan history.
PPSC Lecturer Test Pattern
That written test will be the sum of 100 MCQs. There will be negative marking on wrong answer. There will be four options , only one will correct among them. Time will be given 2 or 2.5 hours. Candidates can left the exams room after half time. The candidate should get the more then 40 marks to participate in interview.
Check Also ⇒ PPSC Lecturer Entry Test – Sample Paper – Past Paper – Online Preparation
Other Important Facts about PPSC Lecturer  jobs August 2020
These jobs are final with advertisment
The vacancies may be increased or decreased.
All information expressed on above, so read from start.
We have cleared the all requirements.
Also described the entry test syllabus & test pattern.