This blog is related to MES Jobs MCQs Entry Test Online Syllabus preparation. If you have applied for any post in MES jobs, then you should know about the test syllabus. That entry test will include the all types of MCQs. Here we also conduct your online Entry Test to check you current positions before final test. So, we hope you will purely coordinate with us. Solve the given all 25 Important MCQs which mostly repeat in every entry test.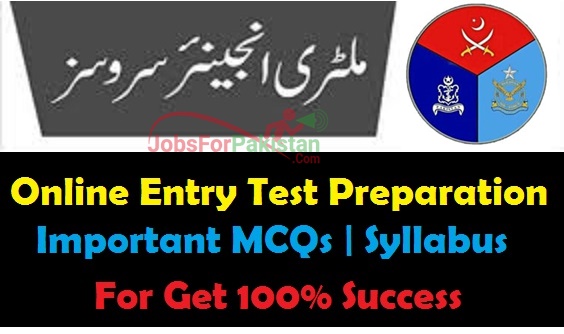 Mes Jobs 2020 Details
Before start online entry test, we briefly discuss here the details of MES jobs that announced in August 2020.
Total Vacancies: 1150+
Positions Names: Assistants, Engineers, Clerks, Stynotypist, Naib Qasid & other latest staff.
Qualification: Primary to Master degree holder are eligible.
Last Date For Apply: The closing date for online apply in MES jobs is 07th September 2020.
View Full Details ⇒ MES Jobs 2020
Online MCQs  Entry Test Syllabus & Preparation for MES jobs 2020
Here we conduct the online MCQs enry test for the help of applied candidates. That important MCQs will be very helpful while they will present in final exams. That online Test is included the all types of questions like General Knowledge, Current Affairs, Islamic History, Pak Study , Mathematics & Science Subjects. For solve that test Click on Start button & solve one by one.